The Business Information Portal (BIP) provides online standard payroll reports as well as an interactive graphical view of compensation as well as a payroll calendar for reference.
Each month the payroll report can be viewed directly online from the Business Information Portal. The payroll report is broken down by component and also displays the company contribution to social insurance.
The Business Information Portal also offers this interactive view of the payroll broken down by month, employee and component. The default view displays the previous 18 months but can be set to any time frame.
In this example here, August of 2011 was higher than usual. Clicking on the bar will then filter the entire view to just August 2011.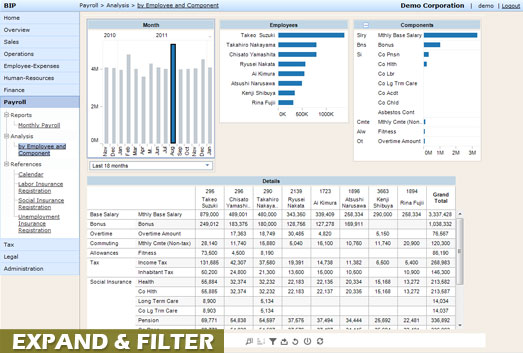 The components window can be expanded to view components in more detail. Here we see social insurance is broken down further by company pension, health, labor, accident, long term care, child care, and asbestos contribution.
Click on any component or employee and the details will filter to your selection. Here the view is filtered to show the bonus amount paid to each employee for August 2011.
A Payroll Calendar is also provided for reference. The Payroll Calendar outlines the tasks and due dates that are required each month by both HTM and the client. Upcoming Japanese National Holidays are listed for further reference.