The
Business Information Portal (BIP)
provides an interactive view and a one page accounting of all expenses by employee, expense group and type, project and cost center.
By clicking on a graphic element, the view will filter by that category, month, and/or employee. In 3 clicks you can go from years of data down to a single transaction!
Pictured here is the Comprehensive Breakdown view of employee expenses. It is broken down by month, employee, expense group, project group, and cost center.
Using the range of time filter, it is possible to set any possible time frame. Here we have it so we can see a 5 year overview of all employee expenses data.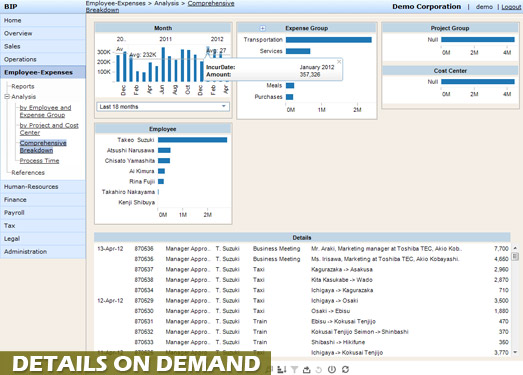 Place the cursor over a bar of interest and a popup window displays the details. In this example, January 2011 appeared higher than average and here we can see the exact total amount.
To get into more detail click the bar and the entire dashboard will filter to that month. Here we clicked January 2012 and all other windows are now showing data for only January 2012. In the expense group window, we can also expand the groups to view by individual categories.
We can see that in January 2012, Takeo Suzuki rode the train quite a bit. By clicking on Takeo Suzuki and then Train, we can see the details of each of his train rides for the month.